I am pretty confused on this stuff..
Firstly, have a look at this scanned copy of an advertisement, I got in Today's Newspaper...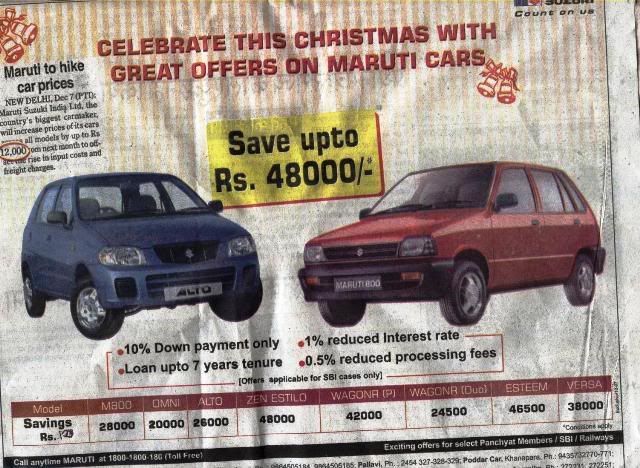 It shows discount on almost all the Maruti Cars. Advertisements don't require explanations ;).
But this advertisement also has a mention of a price hike of Rs 12000...?? What does this mean??
But then at the same time, I got
this news article
mentioning a price hike next year by auto makers Maruti Suzuki, General Motors and Hyundai.
India's largest car manufacturer, Maruti Suzuki, has already informed its dealers of its intent to raise prices by up to Rs 12,000 from January.
For any type of
business loan
that you are unable to pay off, get a look into
consolidation loans
which can help you to transfer money at 0%. By getting
free web hosting services
, you're sure to turn into a computer or gadget geek. Doctors always use their gadgets on dental patients, so don't miss
dental insurance
. You can apply for a
secured loan
, which can help you to maintain your
home insurance
. While sitting on your pc and creating a blog, you can get
free credit reports
.
General Motors vice-president P Balendran also said that they have plans to raise prices by 2-3 per cent next month, while Hyundai cars too would be up to 2 per cent costlier by December end or January next year, as confirmed by some sources.
Again, Honda Motors says that they don't have any plans yet regarding any rise and Tata Motors is silent for now, which seems to me to be silence before storm i.e. a big price hike.
Now, whats the reason behind this increase in price?? Car manufacturers talk of higher input costs - essentially more expensive metals and fuel — and rising freight rates for the hike. But is that the real reason?? Some say that, this hike is just to push the year-end sales which are brought down due to heavy discounts and promotional schemes during festive season.
Festive Season?? This is what the above ad specifies... or talks of.. They are even using the fear of price hike to attract consumers to buy cars!!! This is how my confusion that existed while starting this post ends.