If you use the ad network known as AuctionAds, you may have been surprised to see the new name under the ads running on your site today.
I did a bit of digging and found this post from ProBlogger.com that explains it all.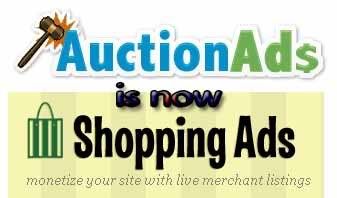 It appears that AuctionAds has merged with ShoppingAds and will be providing your site ads under the ShoppingAds name. If you use AuctionAds, you don't have to do anything special to run ads, they have seamlessy merged so that there is no trouble for their publishers. Now you will just see ShoppingAds under the ads instead of the AuctionAds name. you can even log into the site with your old information from AuctionAds on the ShoppingAds site.
Now they offer both CPC and CPA ads, to make it even more beneficial for publishers who use their ad network. However, only publishers who meet their premium publisher status will be able to use both of these types of ads. The standard publishers will have only CPA ads shown on their sites.
They way they determine if you are a premium publisher or a standard publisher has yet to be completely figured out, but it has been said that it has something to do with the traffic your website receives and the quality of visitors.
It's nice to see a company taking traffic into consideration before displaying ads. This is just another way to ensure you will be receiving the most out of the traffic you do get by having ads that are targeted for each visitor, no matter where they are located.
Don't forget that when someone signs up with ShoppingAds by clicking the ads by ShoppingAds located on your web pages, you won't just receive a one time payment for signup, you get 5% of what they make for a full 6 months. Another way ShoppingAds is working to make you more money with their ad network