No one is yet able to explain any reason but, the Indian Share Market has been constantly falling down since 15th of January i.e. the day when bidding started for Reliance IPOs.
Some were saying that it was something like, all the money of the market, concentrating to one place. The crash continued even today i.e. 21st of January. Today, the crash was not something to be ignored. It was the biggest fall down of Sensex ever i.e. of 1408 points.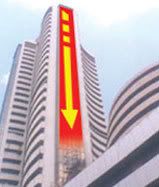 Not only Sensex, but Nifty also lost 496.50 points (8.70%) to close at 5,208.80 points. NSE fell 496 points (9.53%) closing at 5,208.80.
By the end of the day, the index had shed 1408.35 points (7.1%) to close at 17,605.40, the biggest-ever loss in absolute terms and also the first-ever four digit loss for the index.
Some others say that this fall is due to the wake of Securities and Exchange Board of India's (Sebi) proposal to tighten the rules for purchase of shares and bonds in Indian companies through the participatory note (PN) route.
I just hope that the market recovers as soon as possible. Or, I think I could buy some shares for now, and could sell them when the market recovers.