It has been months since Vista was launched. Even today, we hear lots of errors in it. One famous error of Vista is its great speed of copying.
It's been almost nine months since this copy bug was first reported by different blogs stating the Windows Vista's inability to copy, delete and move files without stalling indefinitely, and yet the problem continues.
Screen shots relayed by different bloggers as well as forumers say it better than we ever could.
At one place I had read this-
48167 Days and 23 hours remaining
While another stated
36843 Days and 0 hours remaining
Both are Vista's best-faith guesses as to how long it will take to copy data from one location to another. "I have been experiencing slow copying ever since I 'upgraded' to Vista earlier this year, particularly from USB keys & drives," writes Adrian Procter, a forumer.
Coming to my experience, when I tried to create a CD with just 168Mb of pictures, Vista told me it would take more than 131 years to complete the job.
Don't you believe me?? see this screenshot!!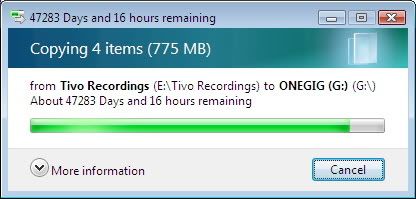 Now, if I wait 131 years just for a file of mine to copy... By the way, shall I remain alive these many years??