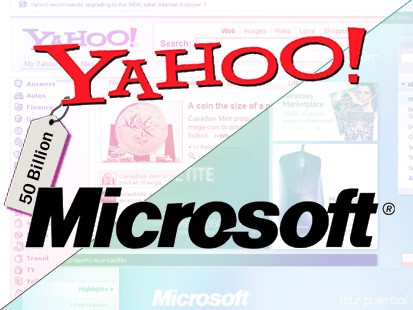 When Yahoo Inc board rejected Microsoft Corp's unsolicited $41.6 billion takeover offer on Monday, forcing the giant software maker to either sweeten the bid or adopt a hostile approach to clinch a deal, saying that it has 'undervalued' Yahoo Inc., Microsoft is now trying another way of getting the deal done, the harsh one as suggested earlier that it reserves the right "to pursue all necessary steps.".
Microsoft Corp will authorize a proxy battle for Yahoo Inc this week to convince the Web company's shareholders to agree on a takeover deal that the Yahoo board so far has rejected.
Quoting people briefed on the matter, the Times Web site said that Microsoft, which has been expected to raise its cash-and-stock bid originally worth $44.6 billion, would seek to nominate a slate of directors by March 13, if Yahoo's board did not enter talks.
"Microsoft is doing the smart thing. It's giving both the carrot and the stick," said Morningstar analyst Toan Tran. "The carrot was the big premium on Yahoo stock and now the stick is the threat of a proxy fight."