In the Board meeting held today (the 24th of February, 2008), the Reliance Power Board approved the proposed Bonus Shares to be issued to all the share holders of Reliance Power. This was announced in a Press Release, which can be read
here.
The Board approved free Bonus Shares in the Ratio of 3:5 (i.e. 3 Bonus shares for every 5 shares held) to all Shareholders (excluding the Promoter Group), subject to necessary approvals.
As the Press Release Says,
PROPOSAL WILL REDUCE COST OF RELIANCE POWER SHARES:
Rs. 269 per share for retail investors, 40% lower than the IPO price of Rs. 430.
Rs. 281 per share for other investors, 37% lower than the IPO price of Rs. 450.
The loss is to be incurred by the Promoters. And to save Reliance Energy's share in Reliance Power, Anil Ambani is to contribute personal shareholding by 2.6%. This issue of Bonus shares, will decrease Anil Ambani's Share from 45% to 40% (approx).
This Bonus Share issue has been a great step towards saving Reliance Power's continuous falling of prices, which were slightly recovered with the announcement of this issue. But then again had stopped increasing with another announcement by Anil Ambani saying that the Bonus Shares will be issued only to those share holders, who don't sell off their shares for at least 60 days.
Another thing to note in here is that, the present press release, mentions nothing regarding this 60 days condition, except for a few words "subject to necessary approvals".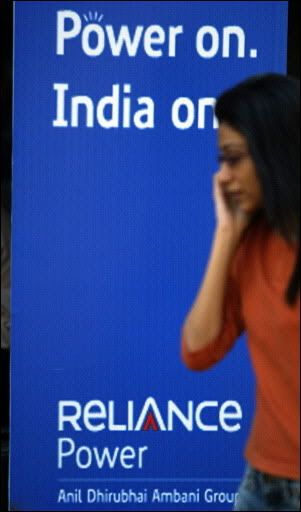 Reliance Power's IPO closed on January 18, 2008, receiving an overwhelming and record
breaking response, with commitments of nearly Rs. 7,50,000 crore (US$ 190 billion), from
nearly 500 institutional investors across the globe, and 5 million retail investors.
Reliance Power is implementing power projects with aggregate capacity of over 28,000
MW, by far the largest development pipeline in the country.