The country's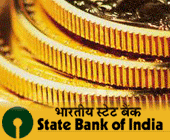 largest bank, State Bank of India (SBI) has announced that bank's board has decided to raise money with the Country's largest ever rights issue by the end of the current financial year in March 2008.
The board has approved a 1:5 rights issue at a 35.42% discount to its closing price on the Bombay Stock Exchange (BSE) on Monday. The rights share with a face value of Rs 10 each will be offered at a premium of Rs 1,580, an official release said.
On Monday, shares of SBI closed at Rs 2,462 up by 1% over previous close of Rs 2,437.