Is that really possible?? I was shocked to hear this from some friends.... Possibilities are surely there.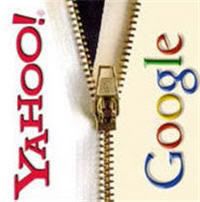 Yahoo! is now thinking to merge with Google than with Microsoft. In other words, Google is in line to bid for Yahoo!. In some more words, Google comes into competition with Microsoft for buying Yahoo!.
At once place around I even heard the word "YooGle!!".. Whether this name is formed or not! The name is surely nice. I, having interest in domain names, just thought of checking out, if yoogle.com is available. I found that this domain yoogle.com was registered in 2000 itself and is registered till 2009 i.e. next year. You can
see it here..
Don't you think, if Yahoo merges with Google for now, and take the name Yoogle!. The owner of the domain 'yoogle.com' is going to be damn rich.
Anyway, is this possible that Yahoo! merges with Google?? I think it is possible. Because, if Yahoo merges with Microsoft, I bet Google will go behind the scenes. The whole world would face a drastic change.
In the present case i.e. of Yahoo!, Yahoo is surely going to be sold out! But the question arises to whom??
Now, where did I get the name of Google, in the queue of bidding for Yahoo?? Its a rumor, I heard around the web. But don't think it a rumour, completely a rumour. Sometime back, even the bidding of Microsoft was regarded a rumour which was then announced officially by Microsoft.
Now here's a quote from
Reuters
To fend off Microsoft's overture, a Yahoo source said on Sunday the search company would consider a business alliance with Google.
Needless to mention, this has been said, regarding the bid of Microsoft for Yahoo of $44.6 billion. We can surely expect an announcement from Google! regarding its bid on Yahoo in a couple of days.
And as Google CEO often says, "we don't disclose our plans beforehand"!! , there might be some truth.